Aegina History
The Iliad By Homer (Written 800 B.C.E -Translated by Samuel Butler) The men of Argos, again, and those who held the walls of Tiryns, with Hermione, and Asine upon the gulf; Troezene, Eionae, and the vineyard lands of Epidaurus; the Achaean youths, moreover, who came from Aegina and Mases; these were led by Diomed of the loud battle-cry, and Sthenelus son of famed Capaneus.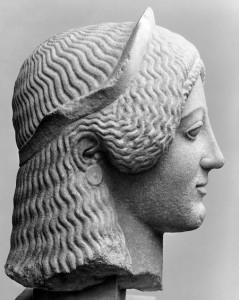 According to legend, Aegina was named after the daughter of Asopos. She was kidnapped by Zeus, who brought her to the then uninhabited island, from whence they bore a son named Aeacus, who later became king of the island. The archaeological record shows the island to have been inhabited since the Neolithic period, and it is thought to have been the birthplace of the poet, Aristophanes. Aegina is also referred to in Homer's Iliad as having taken part in the Trojan War under the leadership of the king of Argos, Diomed.
The works of Pausanias state that the temples of Aphrodite, Apollo, Artemis, Dionysus, and Asklepios were located near the harbor. A pillar has been recovered from the Temple of Apollo (Doric period - 6th Century B.C.). It can be seen on the small picturesque hill named Kolonas. The most important archaeological site on the island is located near the east coast, above Agia Marina, where the temple of Aphaia is to be found. Aphaia is an ancient goddess and the original protector of the island.
In antiquity, Aegina was the first place in Europe to mint coins (please see bottom of page), and to further develop a banking system. Not long after, it became a controling commercial force in the Mediterranean, with a powerful and extensive fleet. Literally at the center of the Saronic Gulf, between Athens, Corinth, and Epidaurus, the small island of Aegina possessed one of the most unique natural locations in the region. That position was ideal for trade and for export of its pottery and perfumes, and its prominence held sway in the region until the first Persian War, and the later defeat (457 B.C.) of its fleet by a jealous Athens, on its way to become a super power of the time. As a result of this defeat, the population of the island were deported and colonists from Athens were established on Aegina. Later on, the island came under the control of the kings of Macedonia and Pergamos and, in 133 B.C., of Rome.