Bansko
Bansko is located on the north-western slopes of Pirin mountain range, at an altitude of 925 m (2775 ft) and is inhabited by 9500 people. It is 6 km (3.75 mil) south of Razlog, 60 km (37.26 mil) to the southeast of Blagoevgrad and 160 km (100 mil) south of Sofia, Bulgaria's capital city. Glazane river flows alongside the town and, further down, it debouches into Mesta river. Bansko owes its name to an old Bulgarian word, 'Ban', meaning 'Lord'.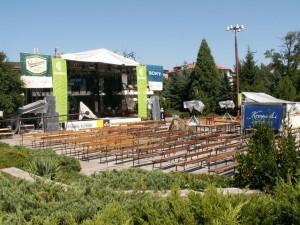 In the past, two-storied tower-like houses have been erected, with high walls, large eaves and reinforced gates. The city lies under the highest and nicest peak of the mountain. The picturesque surrounding of the city, combined with the Bulgarian National Renaissance Architectural style of its buildings have made it very popular to visitors from abroad. At the city museum one can see a blend of ancient and modern history. The three oldest of the 41 traditional Mansions of the city were built during the 19th century and bear the names of their proprietors' (just like the Mansions in Kastoria and Siatista in Macedonia), Chadjivalhovata, Chatjirouskova and Velianova. They have cellars and loopholes and their interiors are richly decorated with wall frescoes. The Greek Mansions in Kastoria, Siatista and Kastoria, though older, are of similar construction. There is also another architectural masterpiece in the city, i.e. the Holy Church of Aghia Triada, built in 1885.
Bansko is picturesque and open to visitors year round. It is considered to be the best Bulgarian resort, equipped with a high level tourist infrastructure. Its ski center is world renowned as having the thickest snow cover for the longest period among all ski resorts of the country. Its pists are of a total length of 50 km (31 miles) and are at an altitude from 1100 to 2550 m (3,300-7,650 ft). The ski center is also equipped with a cabin elevator, six open ski-lifts, 9 tows and one snowbiard ramp.
Every summer a festival of traditional jazz music is organized here with many well-known artists taking part (see photo to the right)