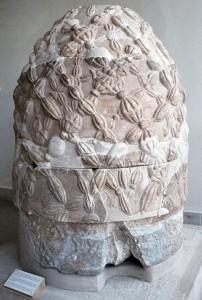 The Museum of Delphi is considered among the three most important museums in Greece, together with the ones of the Acropolis of Athens and in Heraklion, Crete. What makes a visit to the Greek Museums in general, this one in particular, an unforgettable experience, is the fact that they usually exist on the very archaeological site(s), thus putting the exhibits in the surroundings in which they were initially established, in close relevance to their cultural and/or religious role.
The first museum of Delphi was built in 1903 on the plans of the French architect Tournaire, and was later incorporated in a larger edifice constructed in 1938. The rearrangement of the exhibition was carried out gradually and was finally completed in 1980. A new room was added in 1974 for the exhibition of the gold and ivory finds from the sanctuary. A project for the further enlargement of the museum, which has improved the display of the finds, as well as the appearance of the building, has already been realized by the Ministry of Culture, with the museum now featuring bioclimatic methods of lighting, windows with "invisible" panes, and trail-blazing fragment preservation and reassembling; for this reason it was kept closed for nearly one year.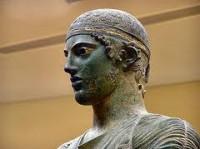 This ground floor museum, as already mentioned, is actually an integral part of the sanctuary and, in its 13 Galleries, it houses some very important sculptures from Archaic, Classical, and Hellenistic Greece, including the Navel of the World (a Hellenistic or Roman copy of the Sacred Stone-photo to the right); the Sphinx of the Naxians (550 BC); the statue of Antinoos; the statue of Aghias; the group of Thyiads (three colossal female figures portrayed dancing around a flowered column from the Sanctuary of Dionysus); the Metopes from the Treasuries of Sicyon and Athens; the Karyatid and Zephyr from the Treasury of Siphnos; the Head of Dionysus; pottery; more figures and friezes from the various treasuries; the two Kouros statues known as Kleovis and Biton; gold and ivory offerings from the Sanctuary and, above all, the Charioteer of Delphi, now given the luxury of occupying a whole gallery of his own.
Actually, the wealth of this museum makes a Guided Tour indispensable.
Operating Hours are as follows:
Monday-Sunday: 08:00-19:30
Telephone Contact: +30-22650-82312
Fax: +30-22650-82966
Address: Delphi 33054 Phokis