Kastoria Prefecture ...more on Kastoria Prefecture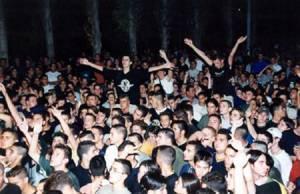 ...The mountainous complex of Vitsi with the dense beech forests, the rare fauna and flora, is another attraction to the visitor in Kastoria. The region has remained untouched by human activities and maintains the unique beauty of the wild nature. On the mountain Vitsi, and at a distance of 22 kilometers from the city of Kastoria, there is an organized ski center. The ski center is situated on the road that leads from Kastoria to Florina, on the north side of the village Polykerasos. The asphalt paved road is kept free of snow.
The Prefecture of Kastoria has a long involvement with fur production and tailoring, which is a major source of income for the people of this region.
A lot of towns and villages contribute to the beauty and the interest of Kastoria Prefecture. Argos Orestiko, with its booming fur and leather manufacture; Nostimo, with its tropical and subtropical petrified forest and Museum; Nestorio, with its famous River Party in the gorge of Aliakmonas River (photo); and Kastoria City itself, with its mansions and its bird wildlife, an attraction for visitors in and of itself. There are many more pretty villages in the district, perched on hillsides, surrounded by firs and willows, as well as lakeside facilities with tavernas specializing in fish from the lake.