China, Activities to watch, things to buy
Come all the way from home to China to just follow the "obligatory" tours and stay at the hotel at your free time is unthinkable! In the following, you can find things to do, performances to watch and shopping to do while we visit the various cities of China.
Beijing: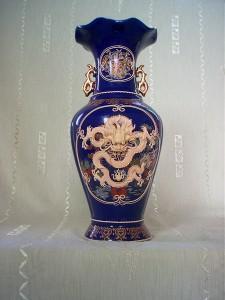 Jingtailan Vase
Credits: www.xiandiao.com
1. Cloisonné shop: The art of Cloisonné (Jingtailan) is a unique combination of sculpture, painting, porcelain making and copper-smithing that is said to have originated in Beijing during the Yuan Dynasty (1271-1368). All the products are beautiful and elegant in molding, brilliant and dazzling in colors and splendid and graceful in design. It is a famous local handicraft in Beijing region. Jingtailan can be found on large objects such as vases and other large utensils and decorative items, as well as small items like earrings, bracelets, chopsticks or jars.
2. Kungfu Show: Wushu(Kongfu) is also called national skill or feat, it is a kind of Chinese traditional sport item. It contains series of actions and many single action to fit kick, strike, tumble, hold, fall, cleave, together in some certain rules. It is one of the typical demonstrations of traditional Chinese culture. The theory of Kungfu is based upon classical Chinese philosophy, while the skills of it consist of various forms of fighting: fist fights, weapon fights, and other fighting routines and unarmed combats. It is a sport which utilizes both brawn and brain. Kungfu is not only a sporting exercise but also an artistic form. It is used for self-defence and is a comprehensive form of culture of the human body. The show is a must-see production in Beijing for tourists and Kung Fu lovers. The show lasts about one and half hours.
Xi'an:
1. Jade Shop: In China, it is a gemstone of unique symbolic energy, and unique in the myths that surround it. With its beauty and wide-ranging expressiveness, jade has held a special attraction for mankind for thousands of years. It is art also, big jade stone carved by the artist and became into animals and trees and even anything we could image. Because of its beneficial effect on the kidneys, the stone was also known as 'lapis nephriticus'.
2. Tang Dynasty Show: the Tang Dynasty (618-907 AD) was one of the most glorious dynasties in China's history; Xian was the capital during the Tang Dynasty and called as Chang'an. Tang Dynasty Show is a performance of Chang'an music and dances in Tang Dynasty style, laid out according to various historical records and ancient arts and relics discovered in Xi'an. During the show, the musicians present the music with the Tang-Dynasty-style musical instruments and the dancers dance by wearing a Tang-Dynasty-style robe with long white silk sleeves; you will certainly enjoy this national art that reflects the glory and richness of the Tang Dynasty era.
3. Dumpling Dinner: Chinese culture and tradition place a great deal of emphasis on food. Far beyond simply fulfilling a need, eating is considered to be a focal point in each day.
Here, we will take you on a culinary journey around China! Dumpling or Jiaozi in Chinese is a traditional and popular food in China, especially in the north. At the dinner, nearly 20 varieties of dumplings that are steamed and stuffed with different delicious fillings such as vegetables, meats and seafood are served; these dumplings are not only tasty, but also characteristic with their colors and fragrance, style and culture meanings, all these make the dinner so unique that you should not miss it when traveling in Xian.
Guilin:
1. Pearl Shop: Guilin is famous for its south sea pearl. Because it is located in the south of China, waters are just the right temperature and salinity to encourage oysters to grow. In addition, very few earthquakes and violent storms take place here, making the specific region a peaceful place for oysters to grow large pearls over a long period of time. Its beauty and gorgeous luster honor its reputation as "the queen of pearls". There are great varieties of all kinds of pearl products: necklaces, pendants, bracelets, earrings and so on.
Shanghai:
1. Silk Shop: China is famous for its silk production, especially in Shanghai. Here you can see how the silk is processed from the silk worm to the final woven cloth. China is the first country in the world that discovered the use of silk. Silkworms were domesticated as early as 5,000 years ago. The production of silk thread and fabrics gave rise to the art of embroidery.
2. Cruise on Huangpu River: the Huangpu River is the mother river of Shanghai, and the representative and reduction of Shanghai, but also the two sides of the river gather the famous sights of Shanghai city. Boarding on the boat, with a cup of Chinese tea in hand, you can feel the honorable position and the long history of the bund; also you can step on the top deck, listen to the pulse and rhythm of Pudong times, and our camerist will help you to take pictures to keep this beautiful moment.
3. Acrobatics: Chinese acrobatics is among the best in the world, and Shanghai is a great place to see such performances! The Shanghai acrobatics show promises to be extremely good, with a group of some of the best acrobats from East-Asia. The philosophy of Chinese acrobatics is totally different from the one in the Western world: the health of the artists is not endangered, nor does the satisfaction of the spectators rely on the agony for the life of the artists. Animals, as a rule, do not form part of the show, and the performances are considered as a triumph of the human body and mind.( Details )