Getting to and Around Kefalonia and Ithaka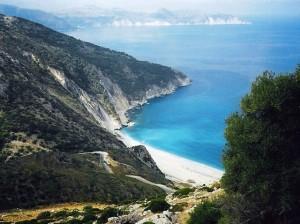 To Kefalonia by Airplane
At least once a day, and also a second time, three times a week, there is airplane connection from Athens to the island. In summertime there are many flights scheduled from your country to Kefalonia and you just have to ask for more info at home. The duration of the flight from Athens is about 45 minutes. The distance from the airport of Kefalonia to the capital of the island is only 8km (5 miles) and there is a bus at every arrival for you to be transported to your destination. For any further information you may contact the numbers below, adding +30 if you call outside Greece.
Olympic airways Athens, 210 9666666
Olympic airways Kefalonia, 2671 028808 - 2671 028881
Olympic airways Kefalonia – Airport, 2671 041510 - 2671 041511
Olympic airways Athens – Airport, Spata, 210 3530000 - 210 3531000
Airport, Kefalonia, 2671 029900
Of course, it would be better and far easier if you arrange a transfer with our Agency.
To Kefalonia - Ithaka by Ferry
From Kyllini–Kefalonia, From Patras–Kefalonia, From Zakynthos-Kefalonia, From Lefkada-Kefalonia there are Ferry connections.

Ferry information:
It is both cheap and easy to travel around the islands. There are ferry services on many routes, with sailings most frequent during the summer. Tickets can be bought from the shipping lines' offices located around the quaysides. In major ports the larger lines have offices in the city center. There are three classes of ticket (First Class, Second Class and Tourist Class) which offer varying degrees of comfort; couchette cabins can be booked for the longer voyages or those wishing to avoid the sun. Most ships have restaurant facilities. During high season it is wise to buy tickets in advance, through our Agency, as inter-island travel is very popular. Check sailing times either with individual lines, the Greek/Hellenic National Tourist Organization, or in Piraeus upon arrival in Greece or, of course, with our Agency.
To Kefalonia- Ithaka by Bus:
From terminal A (Kefalonia office Tel. 5150785) daily to
Argostoli Kefalonia: 07.OO, 08.30, 13.00 Return: 07.30, 14.30
Lixouri- Kefalonia: 08.30 Return: 07.15
Sami - Ithaka: 8.30 Return: 8.30
Bus information :
Buses link Athens and all main towns in Attica, northern Greece and the Peloponnissos. Service on the islands depends on demand, and timetables should be checked carefully. Fares are cheap. There are two terminals in Athens: Terminal A at 100, Kifissou Street, Athens(Tel.5124910-1,5132601) and Terminal B. For information on buses from Athens to the provinces, enquire at Terminal A, or Terminal B, 260 Liossion Street, Athens. Those interested in reaching terminal A by public transport may make use of the bus line nr. 051: Zinonos and Menandrou street - Omonia Sq, from 05.00 to 23.30 every 15 minutes.