Honeymoon in Italy
... we travel your dreams ... to Venice!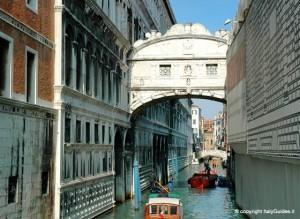 Beyond the shores of Greece, we can't think of a better honeymoon destination than Venice, a truly unique destination for a one-of-a-kind experience.

Nowhere else will you find the combination of breathtaking architecture, magnificent piazzas, an intricate series of waterways and islands, incredible art in every form, and an ambience unmatched by any other city in the world.
This is a city that has it all!
No visit to this remarkable destination would be complete (nor would it be possible!) without a magical journey through the vast canals of Venice seated in your private gondola.
This is romance at its best! Whether on the Grand Canal or gliding along the small side streets, it's an experience that you'll never forget.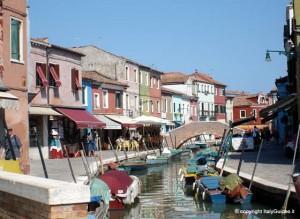 There is so much to see and do in Venice ...
St. Mark's Square and the magnificent Basilica; the breathtaking Doge's Palace; crossing the Bridge of Sighs;
dining on beautiful Italian cuisine at a canal-side restaurant.
For fabulous short excursions, take a water taxi to the quaint island of Burano, with its colorful houses and small canals (a photographer's delight).
Another water taxi will take you to the island community of Murano, famed for its magnificent glass works.
Don't forget a visit to the extraordinary Villa Pisani to view the incredible sculpture in and around its reflecting pool.
Shopping, food, sights ... as we said, Venice has it all!