Crete: Culture and Crops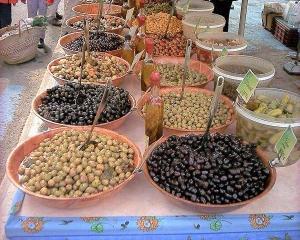 Cretan people are deeply connected with music and rhythm. Through their music they express their feelings, their joy, sorrow, love, and passion for life. The instruments that they use are the lyra, the mandolin, and the lute. However, the most popular form of musical expression is the so-called "mantinada," which is a poetic couplet of fifteen syllabus which express their feelings and their thoughts.
Cretans love dancing. Some of the most famous dances are syrtos, pentozalis, sousta, and maleviziotis.
Local artisans are known for pottery, leatherwear, embroidery, and feather work. A few islanders still don the traditional garb of high black boots, pantaloons, and embroidered jackets.
Traditional pieces of weaving and needlework, as well as embroideries made by the Cretan women, are of great importance and value, both historically and in modern times.
Nowadays, roughly 30 per cent of the land area of Crete is available for the cultivation of crops and orchards. The largest plain is Messara, a fertile stretch of roughly 45 kilometers (28 miles) in length and 10 kilometers (6.2 miles) in width, situated in the central southern region of what is now the prefecture of Iraklion.
Crete produces high quality olive oil. Cretan olive trees, which are said to number 13 million, represent more than one third of the Greek crop as a whole.
Grapes are also Crete's largest export, amounting to 10,000 tons annually. On a domestic level, Cretan wines have always enjoyed a certain reputation from antiquity and well into the present.