Skala Eressos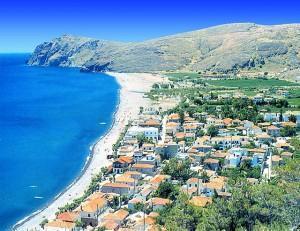 Welcome to Skala Eressos!

Eressos is the native city of Sappho, the most well-known lyric poetess of antiquity, and the philosopher Theophrastos. A city with a history of more than 3000 years, Eressos has always had the same name, and it is a most beautiful village today.

The inhabitants of the village spend the winter in Upper Eressos, 4 kilometers (2.5 miles) from the coast; come spring, they move to Skala of Eressos ('Skala Eressou'), with its splendid 3 kilometer long (1.8 mile) sandy beach, a high level accommodation infrastructure and many important sightseeing attractions. The beach ends at a big rock, which is supposed to reproduce the facial profile of the poetess. In fact, volcanic rocks are scattered in many places, ornamenting the lush green of the village.

The locals make their living on tourism and on animal husbandry, whereas some still produce dried figs, a product that made Eressos world renowned back in the 60's. Being the birthplace of Sappho, who openly expressed her homosexual feelings for her female students, Eressos receives a heavy wave of lesbian clientele.

A long series of tavernas, souvenir shops, bars, ouzo bars and snack bars, all built right on the beach, lend a very romantic air, both traditionally simple but with all the amenities one could wish for, and are most welcoming to lesbian as well as gay visitors.