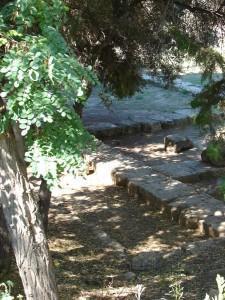 Plato Academy
In antiquity, it used to be outside the city walls of Athens, as we learn from Thucydides; it contained a sacred olive grove dedicated to Athena, goddess of wisdom, and many plane trees.

The place was named after Academos or Hecademos, a legendary hero who had his home by the banks of river Cephissus, at a distance of six stadia (192m X 6=1152 m or 576ft X 6=3456ft) from Athens. He was respected by friends and enemies alike and, whenever Attica was invaded, his land was spared.

In this serene place, Plato established his School of Philosophy. Even today, once within the archaelogical site's enclosure, one is impressed by the calmness and the serenity of the landscape, regardless of the fact that it is actually in downtown modern Athens and much tree-planting is yet to be done! One can only imagine what a superb place it used to be two and a half millenia ago, until the Roman Emperor Syllas invaded Attica in 86 BC and cut down all the trees within the 'perivolos' of the site. Besides Plato, a long series of renowned ancient scholars served as heads of the Academy: Speusippus (347-339 BC), Xenocrates (339-314 BC), Polemon (314-269 BC), Crates (ca. 269-266 BC), and Arcesilaus (ca. 266-240 BC). Later scholars included Lacydes of Cyrene, Carneades, Clitomachus, and Philo of Larissa ("the last undisputed head of the Academy"). Other notable members of the Academy included Aristotle, Heraclides Ponticus, Eudoxus of Cnidus, Philip of Opus, Crantor, and Antiochus of Ascalon.

Admission to the site is free, as it resembles a park and a children's playground rather than an archaeological site! The Greek authorities have so far spent negligible resources in preserving and signing the finds, as so much has been spent to disappropriate much of the 15 ha. of the total area.