Athens - The Old Acropolis Museum
The Old Acropolis Museum in Athens could be safely advised to be the second most important museum in Greece after the National Archaeological Museum and one of the most important in the world, in terms of the history of art. Hosting, because of its small dimensions, just a handful of exhibits, it had to be replaced with a larger and more modern museum. This new museum building is ready and its interiors are being supplied with the exhibits of the Old Museum, plus a lot of fine finds that were kept in the Archaeological Museum or in store.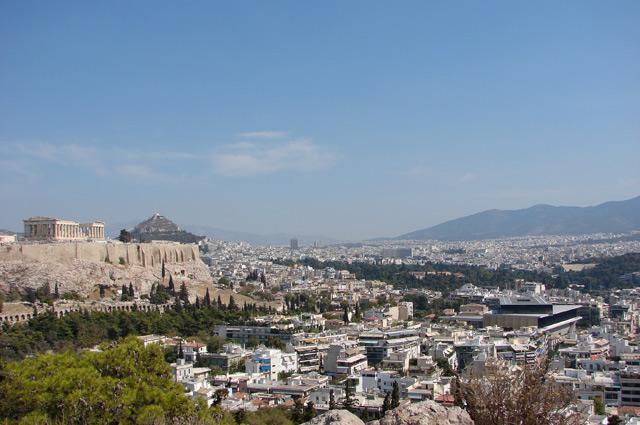 The Acropolis Rock and the New Acropolis Museum (grey and black building to the right)
The Museum used to house masterpieces of the ancient Greek civilization, dedicated to the most important of the Athenian sanctuaries, the "temenos" of Athena Parthenos. The Acropolis Old Museum was the first museum in modern Greece to be built specifically as a museum and constructed during the years 1865-1874. Within were works of art from the Archaic and Classical periods of Greek history. It was not a big complex, as it only entailed 9 large rooms. The collection included various pieces including savoured ruins and examples of these are:
•Sculptural offerings of the Archaic period
•Pediments of temples dated to the Archaic period
•Archaic Horsemen
•Sculptures of the "Severe" style
•Pediments and metopes from the Parthenon
•The Parthenon frieze
•The Erechtheion frieze
•Parapets of the Athena Nike temple
•Frieze of the Athena Nike temple
•The Caryatids
•Clay figurines and vases from the sanctuary of the Nymphs

We were eagerly looking forward to the New Museum's opening to the public. It is an imposing building, having direct eye-contact with the Acropolis Rock and the maimed Parthenon; the Museum is ready to receive the so-called Elgin Marbles (which are in no way the Elgin Marbles, they have always been and will continue to be the Parthenon Marbles!) would the English authorities consent to returning the objects that rightfully belong here and are kept in London, at the British Museum, compliments of Lord Elgin's vandalism. This worst plundering of the Athens Acropolis monuments took place in the beginning of the 19th century, second only to the destruction of the sanctuary by the barbaric Persians in 480 BC. No matter how you feel about that, whether justified or not, this is the way things stand for now.
We are happy to announce that the New Acropolis Museum was inaugurated in june 2009. Enriched with artifacts kept elsewhere due to the Old Acropolis Museum's limited space, the New Acropolis Museum is rated among the top museums in the world and makes your visit to it culturally inevitable. Please note that the request button at the bottom will help you to reserve Guided Tours at the New Acropolis Museum as from June 2009.