Testimonials
In the following we present some of the testimonials our cooperators have had by satisfied customers. Because our 24/7 organization stands behind the fantastic work of our sales people, we feel our people at all levels of our Agency are also entitled to be proud of their work in offering our customers next to ideal travel conditions.
Email from the Bjorgs Family:
Hi Rita,
We arrived back home with no problems. We all truly enjoyed our trip and think Greece is a beautiful place with great people, food, shopping, and history! I have told everyone back here how I was so fortunate to have you helping me -- it made everything so simple especially your help with our late arrival into Athens.
I will send you some pictures as soon as I get them on the computer. I have been working long days yesterday and today to try to catch up.
I think one of my daughter's friends is going to contact you about planning their honeymoon in Greece. We highly recommended you :).
Thanks again, Rita, for all you help.
Lori
* * * * * * * * * * * * * * * * * * * * * * * * * * * * * * * * * * * * * * * * * * * *
I am writing this review because I think it is important to know what level of service you obtain when you choose Windmills Travel!
I like to travel and have experience traveling to different destinations each year. Our last trip was to Greece. We flew into Athens, then Mykonos, then Santorini and back to Athens Greece. We tried to create our own itinerary but did not have the knowledge of Greece to complete it.
If we were to go to all of these places on our own we would have been stranded many of times not knowing how and when to get to our next destination. So we elected Windmills Travel to do the footwork for us! I have to say – We felt like royalty!
The drivers were waiting for us with signs held high and big smiles. They knew where to take us because Windmills Travel had taken care of everything! We prepaid, so every time the driver picked us up and dropped us off "on time" to make our next destination, we didn't have to fuss to gather money when you're getting your luggage together. It wasn't a bus with other customers – it was us and the driver. It took the worry out of our vacation and thus; we had a fantastic time.
If you want to relax and enjoy your vacation, worry free – choose Windmills Travel and experience the real deal! Rita and Lori were very friendly, knowledgeable, and caring from the minute we started our vacation to the very end of our trip! We stayed in contact the entire way in case we had questions or concerns!
I will go back to Greece one day, and without a doubt, I will contact Windmills Travel! Lori and Rita were outstanding and made us feel so comfortable in their homeland! I wouldn't have it any other way!!! ***** 5 star rating ***** Rose Vella Sebastopol, CA. USA
* * * * * * * * * * * * * * * * * * * * * * * * * * * * * * * * *
Traveling is one of my favorite hobbies. Each year I go to a new far away location, while enjoying the natural beauty where I live in between far away traveling. My review below shares my most recent Greek travels. This is one of my best trips so far.
I went to visit a few Greek islands, with our final stop on the island of Malta. We were preparing for our trip to Athens, Mykonos, Santorini, and Malta. My friend has family in Malta so we were all set when it comes to Malta. My intention was to setup the complete trip myself, but as our vacation date got closer I realized it will be too hard for me to find time and resources to organize our awesome Greek trip, I decided to look for help. That's when I found Windmills Travel and Tourism website – located in Mykonos.
Lori Messina manages the Mykonos Office, and Rita B. Tziotis is the Owner/Manager of the business. Lori and I hit it off right away. She has a wonderful virtual personality. We emailed each other daily about our likes and dislikes – Lori wants to know exactly what I want and for how long. Lori is one of the best agents I have had the pleasure to work with and I travel frequently. My Greek experience was honestly the best trip I have ever experienced. Lori double checks drop offs and pick ups. There always someone waiting at our pick up locations with our name on a sign. That is such a comforting feeling. Lori listened to my every little request and made sure it happened.
Early in the trip, we got separated from our luggage in Mykonos. I am happy to report that Windmills Travel and Tourism had our bags delivered to our room within five hours. We were told it would take days – but not when Rita and Lori are working on the problem. They make things happen. This is the best travel company – they are meticulous about every single detail. They are there for you during your entire trip. Rita and Lori gave me their cell phone numbers just in case we ran into any other problems. They told me to call at any time of the day or night and they will help us. Lori carefully listened to each of our goals and created the most extraordinary Greek trip.
When we arrived in Santorini there was some confusion regarding our lodging. Lori got on the phone with Rita. Rita stepped up to the plate to make sure we were lodging at the best of the best. Rita set us up in a 4-5 star hotel in Imerovigli. This place is hard to describe in words, but its beauty is ingrained in my memory forever. No one can take that away from me. The view is spectacular. Every morning we would eat outside while taking in all the Greek mountainsides, and water surrounding us. I want to thank Lori and Rita for making priceless m Warm regards, Lori Ann Nolan – Sebastopol, CA
* * * * * * * * * * * * * * * * * * * * * * * * * * * * * * * * *
Email sent to our tour operator colleagues in the UK, Greek Sun Holidays:
Dear Mr Johnston

Just thought I'd send a quick e-mail to pass on our appreciation and thanks for the way our recent holiday to Tinos was organised. Everything went exactly to plan and we really enjoyed our stay on Tinos . The hotel was lovely. The island was great and all transfers went like clockwork. Sharon Turner on Tinos was an excellent representative for your company - please pass on our thanks to her for her diligence.

Once again many thanks and well done !

Anita and Colin Appleby

* * * * * * * * * * * * * * * * * * * * * * * * * * * * * * * * *
Excerpt of email from Linda Shilts:
Dear Lori and Windmill staff,
I want to thank you for the wonderful customer service and excellent arrangements that were made by your staff at Windmill Travel. Our trip to Greece was so wonderful, thanks in part to the arrangements made ahead of our travel by your company. We thoroughly enjoyed Greece and wish we could have stayed longer. We are sorry that we were not able to meet you in person (we stopped by your office 3 times). Thank you again and we will be sure to recommend you to our friends...Thanks again, Linda
* * * * * * * * * * * * * * * * * * * * * * * * * * * * * * * * * * * * *
Excerpts of email from Keith and Melissa Boccaci (honeymooners):
Hi Rita/Aggeliki,
We are home safe and back at work, yuck!
I guess something good did come from us taking that boat! Melissa did not hold up so well, the seas were very rough and let's just say she took a healthy nap when we arrived in Rafina.
Everything on our trip was beyond our expectations. Your company truly is amazing from beginning to end, we couldn't have asked for anything more.
Aggeliki, it's a shame we couldn't meet up, thank you again for your help for the last 7 months, it was really refreshing to deal with knowledgeable and helpful people such as yourself.
I will certainly send you all our pictures and you are free to use them as you wish, we have some spectacular ones in there, especially the rainbow we caught while traveling the mountainside in Tinos with Sharon !
... The tours in Athens were fantastic, great guides and excellent way to spend the day! Renting a car/bike at each location was fantastic. It was a great way to see the islands and explore secluded beaches on your own schedule, especially the one you recommended Rita in Mykonos , truly secluded and we saw a spectacular sun set. I think it was Melissas favorite moment of the trip! The cruise to the volcano in Santorini was spectacular.
... The day tour with Sharon was very enjoyable. Sharon is so great and extremely knowledgeable; it was a pleasure to spend the day with her!
... The dinner at Ithaki was great. What a beautiful restaurant and the seafood platter they brought us was delicious!
... Thank you again for everything, you certainly made our honeymoon one to remember!! I just checked your website as I was hoping there was a place to write a review however I just saw a testimonials page. Please feel free to use any part of this e-mail in that section as I would 100% recommend your company (and just did to someone I know who is considering this same trip) to anyone thinking of going to . In fact, I would consider anyone that didn't organize their vacation through you to be selling themselves considerably short.
Many many many thanks!
Keith / Melissa
* * * * * * * * * * * * * * * * * * * * * * * * * * * * * * * * * * * * *
Thank you letter to Frommer's for their recommendation of Windmills Travel and Lori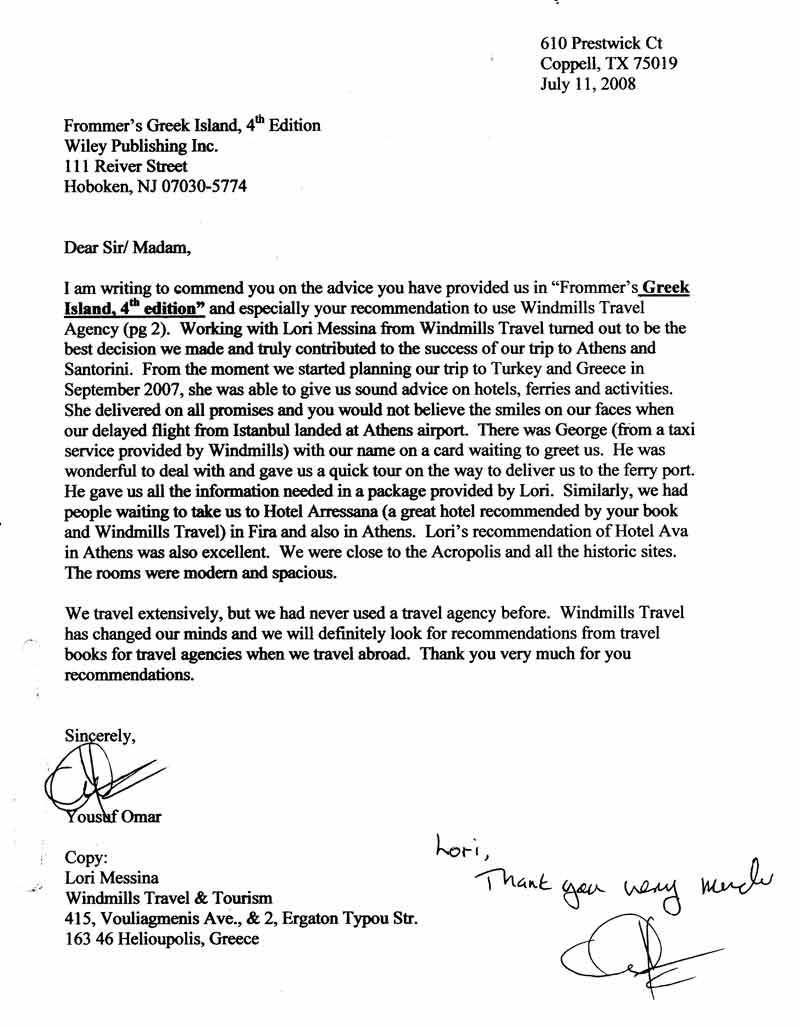 * * * * * * * * * * * * * * * * * * * * * * * * * * * * * * * * * * * * * *
Dear Labrina,

I would like to take this opportunity to thank you for all your help in arranging my trip.
The trip was amazing I had a great time.
Everything was very well organized, the transfers, the hotels absolutely everything was planned with extreme professionalism.
Once again, thank you and looking forward to work with you again in going on another trip.
Josiane Mikhael
************************************************
Hi Labrina.

THANKS!!!

That was one of the best holidays ever - all your arrangements went absolutely smoothly, we were met everywhere we went by your representatives, the accommodation you chose was exactly what you said it would be and just what we were after - you even got the weather right!

In Santorini we even got an upgrade from the nice Alexander Villas to the amazing Chromata, which topped the trip off perfectly. Thanks again, and if you need a customer recommendation, don't hesitate to contact me.

Great job.

Warren and Stephanie
***********************************************
Hi Catherine!
Nice to hear back from you. Sorry took some time to reply. My experience with you was great. You helped me while I was traveling and squared away the details - which took a lot of stress off of me (recall I had been in Turkey, Croatia, and Montenegro prior and waited to make arrangements). From that perspective, you and your organization were terrific!
Also, under the circumstances of a) last minute b) highest season - you did a great job of accomodating me - even with the strange room to room schedule. In the end, I am very glad that we kept the room changing to only the first night as that would have ruined the experience and caused a great deal of stress for everyone concerned.
I thougth the hotel was an average accomodation - but priced accordingly. The location really made up for the less than lux accomodations. But, then again, that was my budget and you were forthright in telling me it was 2 star. The staff was great! They worked hard and were very pleasant! I especially like the manager (forget her name now). She worked hard to figure out the room situation. But the whole staff, in general, did a nice job.
I must remark, very highly, that of all the people I contacted to rent a room in mykonos (and I contacted quite a lot!), you Catherine, were BY FAR the most professional, helpful, and responsive. It is shocking that others do not take their work as serious as you do. I think you would be very surprised to know the level of response I received from other realtor professionals. You would also be surprised at how much you exceeded their level of service. In other words: not only did you surpass the nearest competitor, you blew them away!! This undoubtedly makes you very successful. I wish you well.

Best regards,
Natalie

***************************************************
Georgia,
Thank you again for all of your help. I have been unable to check my email until now, but we are very satisfied with your arrangements. We are having a great time!! Thank you to you and all of your staff for helping us organize our trip.
You guys are fantastic.
Best regards,
Ryan and Michelle
**********************************************************************
Dear Lori,
Back to work in Vienna, where it is cold and raining, I write you this thank
you note. This note is also addressed to Sharon in Tinos and the whole team
in Mykonos.
By the end of July, I decided to travel to Greece and to do the islands
hopping in the Cyclades in August.
I found windmills travel on Internet, asked for help and you organized my
trip in the very last minute.
I am so satisfied with your service, your kindness and your professionalism.
The whole trip went fantastic even in the middle of the high season.
I have beautiful memories thank you and your team.
Wish you the best.
THANK YOU
Catherine
****************************************************************************
Good Morning Labrina,
Well as you know, my trip became an adventure. It is always something special when you travel alone to somewhere you cannot speak the language. Then add in the issues I had even until I met Harvey.. then scheduled.. and you know the mass effort I put you thru from there. Schedule changes, attempt at a Russian visa to Greece and island change last minute. Then to get the and loss a credit card.. Seem I should of given up somewhere huh? Not me! I did it, I had fun.. and should I ever find someone willing to go I would do it again.
It was one of my dreams to walk on top of the acropolis, and you helped make it come true. For that alone I thank you. Then added to it you set up a great tour and followed up on me as I took my journey thru Greece. Thank you ! for all the help, patience and understanding. The Hotels you suggested were amazing! Athens was fun and the trip was a great learning experience for me. I hope to write you more and send some of the pictures very soon. Thanks again.. I hope you vacation and this weeks group set up are going/went as planned. Again sorry my trip ended up being so much effort on you. Yet I true appreciate all you have done.
Stephen

* * * * * * * * * * * * * * * * * * * * * * * * * * *
Letters to Colette
******************************************
Dear Colette,
We just came back from paris, our last stop.
But it was our first stops in athens , santorini, paros and mykonos
that were most memorable!
We had a great trip. Thank you so much for all your help, guidance,
arrangements, and maps! Though we understand that Windmills Travel organization made it all possible, we feel that a direct thanks to you is well in place!
Especially that day when we were stranded on mykonos, and had to rush
back to athens for the flight to venice... thanks for all your 'behind
-the-scene' help to get our bag and arrange the driver. We really
appreciate.
Guess what, that night, the flight from athens to venice was postponed
for 2 hours. hahahhaa...so we chilled out at the beautiful and quiet
athens airport.
Greece is an interesting place. So much to discover. And it grows on
you more. Am preparing a journal... with our diary or itenary, and
some personal thoughts on greece - the language, the people, the quirks
(no toilet paper in toilet bowls!! hahah) and the charm.
Santorini is priceless. And your recommendation to stay at imerovigli
instead of fira was great. We walked to fira, so crowded, so
commercialised, so not our cup of tea.hahhahaa.
We had a great time at pegasus. thanks. We also went down to OIA, and
spent a nice afternoon there.
And we discovered the centre of naoussa in paros. Again, thanks for
recommending us to naoussa and not paros centre itself. The seasisde
village centre of naoussa was really charming and picturesque! And the
impact was more as we walked into it without expecting it... just
turned a corner and wham... the waves were there!!!
Mykonos was windy. Had fun partying, sun tanning and shopping ( good
thing we did, since we missed our shopping in athens) , Nice sunset
time in cafes along little venice....
We will send you some photos when we are ready. Still sorting them out
by the cities and islands.
We definitely will contact you and Windmills Travel again in future trips to greece. We have already recommended you by word of mouth to some friends - "Colette our
greek agent (or dutch agent in greece)!" hahahhaa...
warmest regards,
weetz
******************************************
Dear Colette
Thank you for your message.
Haven't replied before because, as I'm sure you know, when you get back to work after 2 weeks holiday, you have a pile of work to attend to - so that you wonder if it was worth going away!
But it was! We had a wonderful time and thank you for the parts you organized. We particularly loved Hania and it was lovely to have a hotel so near the sea so that we could walk along by the sea into the town and main bay. The staff at Hotel Kriti were delightful, friendly and helpful.
Karl's luggage didn't arrive with him at Hania airport but it reached Hotel Kriti only 5 hours later!
Mykonos was fab as ever.
When we next go to Greece, next year probably, we're thinking of going to Corfu - to stay in Corfu town. So any info you have about gay or gay friendly hotels and bars would be nice, plus any info on cheap flights from the UK. But no hurry for this.
Thank you again.
Kind regards
Ian
******************************************
Dear Colette,
We all thank you for your kind helps to us so far.
Pelican Bay and Contaratos were good hotels, compared with their categories.
The transfers were excellent to and from hotels.
On our last day in Athens, we went to Plaka, Syntagma Square and Kolonaki.
We had lunch in Turkolimano in Piraeus.
As a whole, the Greece trip was enjoyable.
Thank you, again.
Best wishes,
Deniz
******************************************
Thank you very much Colette for everything. We had a wonderful time in
Mykonos. I should have stopped in to the office there but never found the
time.
Thank you very much and I look forward to your response.
Sincerely,
Nicole
******************************************
Hello Colette
Thank you for your email. It's my first day back at work today which is a
bit depressing.
Thank you for your interest in our holiday.
I was very impressed with the service my friend and I received from you and from the staff in your office in Mykonos. You all were very helpful and everything you booked for us was efficiently delivered.
Thank you again for all of your help. I will have no hesitation in recommending Windmills Travel to my friends for future holidays.
Regards,
Vicky
******************************************

Hi Colette,

We had a wonderful time in Athens and Santorini. We have "spread the word" and hope US people will be encouraged to travel there. Although we find that most of our friends are not interested in traveling too far away now. Santorini is a beautiful island and the Pegasus Suites were great. The accommodations were so much better than what we had been staying at in Athens, we doubly enjoyed it. We especially liked all of the nice touches in the room and having breakfast on our balcony each morning. We bought some beautiful glass pieces there. We bought two paintings in Athens we're looking forward to receiving.
Everyone we met was kind and efficient - we had no problems and loved your country. Thanks for all of your help.
Cindy
* * * * * * * * * * * * * * * * * * * * * * * * * * * *
Hi Sharon

What a wonderful experience we had! Tinos and Naxos were awesome. We really loved Delos. Tinos was quite picturesque, especially inland with the Dovecotes and all the old walls. All the ferries worked like clockwork...you were so right about that. We especially liked the Nissaki Beach Hotel. It was charming and the food was great! We rented cars on both islands and that worked out very well. Thank you for making all the arrangements for us and for meeting us at the ferry. That was so thoughtful. And thank you for having the ferry tickets delivered to our hotel. We loved your island and we loved Greece! If you ever come to San Diego, please give us a call.
Many, many thanks for a memorable trip!
Cindy and Jim
******************************************
Dear Sharon
I returned to Italy a week ago but my heart remained in Greece!
My tour has been really exciting.
Before coming to Tinos I've been 3 days in Athens, 2 days in Aegina Island visiting the marvellous temple of Aphaia and we arrived at Tinos passing by Sounio with the beautiful temple of Poseidon.
Our week in Tinos has been beautiful because your island is a typical cycladic island without a touristic invasion.
After leaving Tinos we have been at Marathon and Ramnous (nice archaeological site) then we reached Thebes, Orchomenos and the Copais Lake with the Mycenean fortress of Gla.
We arrived at Olympus mount, visiting the archaeological park of Dion that is really well preserved.
Then we reached Veria in order to visit Verghina with the royal tombs of Philip II: it's really a suggestive place.
After arriving at Thessaloniki we visited Pella, the city of Thessaloniki and finally we arrived at Delphi passing a whole day in the Sanctuary of Apollo.
At the end of the tour we took the ferryboat at Patra.
I'm very grateful to you for the accommodation at Tinos Island; in the future, if I'll come again to visit cycladic islands, I'll return to Tinos.
Next year I'd like to visit Lesvos and Chios Island and then I'd like to visit the Ionian Coast of Turkey from Troia, Efesos, Miletos until Alicarnassos.
Will you be able to suggest to me any opportunities about accommodations in hotels in those Greek islands and in the west Coast of Turkey?
Best Regards.
U. T.
******************************************
Hello Sharon,
Well, I'm back in OZ and back to the grind to make some more bucks and organise my next trip to Tinos, possibly about Easter time to celebrate true Greek Easter.
I would like to take this opportunity to thank you for all your help, and please pass my warmest regards to Anna, Leandros " Jack " and their son Michael, and a BIG thank you for the way they treated me, I will write back soon, with some questions for Leandros.
Best regards,
George.
******************************************
Dear Sharon,

The lad was waiting for us in Andros with the last available car on the island. Good thing, because the drive over the top was long, though beautiful. Bus connections with a stop in Batsi would have taken forever.

We loved Andros. Very green and beautiful. The hotel Paradise was lovely
and the receptionist there guided us to a lovely beach. We credit all this fun
to you. Thanks one hundred zillion.

Off the next moring at 4:30 am. No problems with check in. The usual
problems with claustrophobia on the flight to US of A. But here we are,safe and reunited with our 12 year old son.

All thanks to you! If you ever need a place to crash on this side of the
pond (a world war II expression?) don't fail to call us. We'll try to take as good
care of you as you took of us.

All our best thoughts, Glen and Jeanne


******************************************
Dear Sharon
Just a note to thank you very much for all of your help. We all had a wonderful time in Tinos. The island is amazing and the house was fantastic.

Thanks again for making our stay so enjoyable. Tinos truely is a hidden
gem!! You really put yourself out for us above and beyond the call of duty
so were all very grateful. I WILL be back to visit/stay/settle down/live
so i'm sure i'll see you again and I look forward to it.
Also, once again thank Stella and the family for their lovely home and great
hospitality. Their regular delivery of figs was much appreciated. SOOooooo
Thanks, cheers, efharisto
lots of love gaby and the gang xxxx
******************************************
Thanks Sharon!

Yes, we have returned home after a wonderful trip.

We spent about a week in Italy as we made our way back to Paris -- and then flew home from there. It was all interesting and beautiful, though our time on Tinos was our favorite part of the trip. The spirit on your island is wonderful, and Georgia
"made us feel so at home". In my mind's eye I have many images from the island that I will think of for years to come. Thanks for all your help, and we hope to see you again and/or to send others your way.
Jeff G.
******************************************
Hello Sharon,
We are settling in back home, after the most wonderful trip. As you told us, each island is different and wonderful. I don't know that we could pick a favorite, each one is so special. We can't say enough about the first class service, fun eclectic furnishings, and delicious breakfast at the Chromata. It was a perfect way to end our stay on the islands (we even had a full moon).
...John and I enjoyed meeting you, and hope to see you again sometime.
Many blessings,
Elise
************************************************
Dear Lori
Thank you thank you thank you thank you for making our trip to Greece
before and during so easy!

We had a wonderful time. Traveling was made so easy having transfers in so
many places and also having places to stay. The places we stayed were
great- quite luxurious in most cases.

The diversity of our trip was not just between Greece and Michigan but also
within our Grecian travels. The islands were very different than one another
which was fun. Despite the tourist nature of Santorini, it was a beautiful
beautiful place and I could have stayed there longer. Folegandros was by
far my favorite place. Soooo small but again could have stayed there for
several more days, even a week, without getting bored. The people were so
nice. The food was great. The few beaches were fabulous and empty. Paros
was a bustling place that we enjoyed once we found beaches to hang out on.
Was a bit more of a Greek and Italian family vacation spot a little too much
going on. Tinos was fascinating as a place of pilgrimage for Greek Orthodox
people. All the tourists were Greek. It made for a very different feel that
we enjoyed. Having a few more days there allowed us to get to know it a bit
more and to come to appreciate the uniqueness of the place. Sharon was quite
nice. We had a very luxurious place to stay in Rafina with a fabulous view.
It was a perfect place to prepare for our long trip home. Which was very
easy again until we got to Ohare and had a 3 hour delay on our 40 minute
flight! Ugh. But Grand Rapids was also a very fascinating place. The
wedding was wonderful.

Thank you thank you thank you again. You helped soooooo much. There was no
anxiety throughout the trip and that made spending time together so great."

Again, a huge thank you to you, Lori, for these plans!

Susan Beall
******************************************
Dear Lori,
We have only just settled back home after a perfect honeymoon and then visiting family for a few days. We are exhausted but sooooooo happy!
I can't tell you how wonderful our holiday was, there is so much to say. Both Santorini and Paros were excellent offering us two very different, but equally brilliant stays.
Santorini is truly magnificent and we took the opportunity to see it in as many ways as we could. We had a wonderful sunset boat trip, spent a fantastic evening in Oia and many drunken hours in Thira. We particularly enjoyed our trip to the Boutari winery.
Paros was very different but we found a more real Greece there and spent many days and nights enjoying local food, wine and entertainment. We also had the chance to go scuba diving which was fantastic in the waters off the Santa Maria sands.
The accommodation was exceptional. The Rocabella, as you said, is an unbelievable place and they were so welcoming, personal and could not have done more for us. Obviously the views from our balcony were amazing! The staff made this a very special start to our holiday. The hotel in Paros was also outstanding. It's location was perfect for strolling into the nightlife and the service, particularly the bar staff, was also brilliant.
All transfers and tickets etc, got to us as you said and all staff who we met us along the way were lovely and very helpful. We felt like royalty most of the time when we travelled as we would watch other people struggling for taxis and we would be whisked off in our private car - excellent!
Finally we would like to thank you for making this such a special time. We have some wonderful memories and we feel that without your recommendations, service and organisation we would not have had such a fantastic time. Thank you to you Lori and to all the staff who helped us.

Best regards
Anna and Ian
******************************************
Hi Lori - Just had to write you a "thank you" email. Had a great time in Greece, thanks to you! I must say I think I visited some great spots in Santorini, Athens, and Mykonos! Had a great time on the Delos tour and made some good friends in the tour group.
Will definately make it back to Greece, hopefully in the next couple of years. I'll definately book again through Windmills and perhaps you'll still be there to book everything.
Thanks again,
Chris
******************************************
Hi Lori
I am home in rainy San Francisco. We really enjoyed both Athens and Mykonos. We met many nice people, one of which used to live in San Francisco and owns a hotel on Rhodes.
Thank you for everything. We had a great vacation. My co-workers got a chance to see my pictures and they all want to go to Greece.
Efharisto,
Sam
******************************************
Dear Lori,
It's been 2 weeks since I came back from Greece. I just want to tell you that I had a wonderful time there. The Attalos Hotel is very conveniently located. The staff were very friendly and helpful. The tour also worked out fine. Both Delphi and Meteora are amazing! Weather couldn't have been better. Souvlaki and Greek Yogurt are very delicious, and I started to search for Greek Yogurt in the supermarket here in London. All in all, I had a fantastic trip, and I want to thank you for your help to put all the things together.

Many thanks and all the best,
Ida
******************************************
Dear Lori,
As you can tell, we didn't make it to Mykonos so we didn't get to meet you
in person. But we do want you to know how much we appreciate all you did
for us both before and during our trip. We worked very hard at being more
Greek and less North American as time went on. Keeping to the strict schedule wasn't possible due to the winds and we had to learn to just let
life happen. We actually got better as time went on.

We really liked the Melina Hotel in Fira and would highly recommend it to
others. The owners really made a difference here and made our change in
plans very comfortable. The Eleftheria Hotel in Agia Marina was lovely
too.

The Irini Hotel in Iraklio was right in the center of the old city and
very convenient to the bus station. While it is older and noisier, it was
well run, the staff was very helpful, and we were thankful for its
location. In short, we enjoyed each location and all your helpful advise.


Our visit to Athens was traditional in many ways…trips to the Acropolis
and to Epidavros and Mycenea, but by far the highlight was the 2 days we
spent at the Paralympics. We so enjoyed the venue and the athletes and
the people we met.

So thanks again for your assistance. Hope all is well with you and your
family.

Nora and Lynn
*************************************************
Dear Nancy,
First of all, may I say that I was very impressed by the standard of service I
received from everybody at Windmills Travel and Tourism. From you, and from both the other ladies who helped me in your absence, the service was excellent. The late change of hotel from Hotel Verori to Hotel Delfini in Piraeus, for example, could have been very bad news for me and my sister just before we left London, but the way it was handled by you was very professional. I was very happy to be told in advance so honestly what the problem was and what changes I should expect. Really, this was excellent.
Clare
******************************************
Dear Nancy, we have returned safely and much refreshed from Greece. Thank you for the fine service you and the other Windmills people provided us. Be assured we won't forget you when we come back again.


Cordially, Pat
******************************************
Hello Nancy,
The games were fantastic and our Greek experience was quite enjoyable. True, the first night was a little rough, but you guys were really good about fixing things and that made all the difference in the world. We understand well that challenges all the agencies had dealing with hotels (during the Athens 2004 Olympics). What's important is that you stepped up and took care of us. We'll never forget that Nancy and I know I speak for Clinton in saying we can absolutely recommend Windmills Travel to anyone who asks.
All the best,
Joseph
******************************************
Hi Nancy
Great to hear from you. The trip back was fine. I really appreciate the work you did in arranging the trip for us and for putting up with the changes I made. I really feel that local travel agents will play a greater role in the future, I spoke to numerous people and we all seem to be moving towards making arrangements with local agents, via the net, rather than doing it through travel agents in the UK. After you had left the hotel that morning, the man I was talking to said that it was great service that you had come to meet us.

With best regards
John
******************************************
Nancy,
I thought you must be Greek-American. Your Americanism and professionalism are very apparent!
Thanks Jeff
******************************************
Hello Nancy,
Wonderful ideas Nancy! The tour sounds wonderful. Can you please book us in? Adding to this, your other suggestion of climbing the volcano and swimming in the natural springs, is great. I would love to do that as well. You know I'm going to take credit for this one ;-)
Andy
I'm Andrea from Italy I would to say you thank you for your help for this holiday.
Thank you Nancy. We both had a lovely time. Thank you very much for your help. I will gladly recommend your services to my friends.
Andy
******************************************
Hello Nancy,
I am still in Europe (Paris) and I should leave tonight to Brazil. Regarding to my vacation in Greece, I can say you that my stay in Greece could not be better, you and your team made the things perfect to be possible. We have [had] a wonderful vacation in Greece (of course, God helped with the sun and beaches).
Again, thank you very much for your attention and, for sure, next time in Greece, next time having my trip organized by Nancy.
My best regards,
Raul
******************************************


23May2005
Geia sou Nancy kai hairetismata apo Olympia!
Our luggage arrived and your Wine is fine. (It was the fault of US Customs). The cookies must have been suspicious, because they were destoyed :-(
Our plan was to do that train tour from Diakofto, but the last train was sold out by the time we got there. We didn't get the car until 11am so we just relaxed in Diakofto with a nice lunch.
BTW, we dropped the National Car guy off on Spyrou Patsi street--no extra charge-- :-> so we're sure to find it next week! The car is nice, and has a CD player. We should have gotten a CD back in Athens. Maybe something from Elena Paparizos. Do you know her? :->
So, anyway, we altered our plans a bit the first day and found the Mavrodafni winery near Patras. It was great! We're enjoying their brandy right now on our balcony of the New Olympia.
Life is good.
Efharisto Nancy...YOU'RE NUMBER ONE!
Hans 'n Rob