We, at Windmills Travel, will be glad to be able to arrange for your car hire at every location within the country. Pick-up and delivery is available just about every where, though charges may apply depending on location. Since rates vary by destination, as well, just let us know where you're heading, and we'll send you the current rate for the rental and any extras, if applicable.
Below, you'll find a catalogue of the most popular rental cars in Greece. These can vary by destination, but makes and models will have similar features and comforts.
Please note: Hiring a Jeep or renting a car over 1.000 cc you need to be over 23 years old and to have a credit card to show to the company.
A1
Suzuki Alto or similar
1.0 5D AC


B1
Opel Corsa or similar
1.2 5D A/C

C
Suzuki Ignis or similar
1.3 5D AC

D
Opel Astra or similar
1.4 5D AC

E
Opel Vectra or similar
1.6 4D AC

F
Ford Mondeo or similar
1.8 4D AC

G
Opel Astra or similar
1.4 AC AUTO

K
Fiat Scudo or similar
2.0 A/C (9 pax) Minibus

R
Suzuki Jimny
Convertible or similar

S
Suzuki
Grand Vitara or similar

T
Suzuki Vitara
Convertible or similar

L
Cadillac Seville or similar
A/C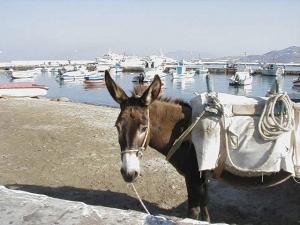 Remarks
Car groups are automatically confirmed, whereas specific models cannot be guaranteed.
Rates include: Unlimited Kilometers, Collision Damage Waiver (CDW) [except for Tinos Island, where this coverage is available as a supplement] , Third Party insurance, Airport Fees and VAT. Theft and Fire protection are also included, compliments of Windmills Travel.
Special Note for Athens, Thessaloniki and Crete : For clients desiring navigational aids, we now have autos available with GPS, for a small additional daily charge of €5,00
Group A cars can be available with A/C at an extra daily charge of € 7,00.
Deliveries/collections on request (to & from hotels, ports, etc): € 15,00- €50,00 per delivery/collection.
Night deliveries (21:00-08:00 hrs): € 20,00 per delivery.
Rates for Athens international Airport 'Eleftherios Venizelos' will be increased by 7%. We, everytime try to avoid this.