Karditsa Prefecture ...more on Karditsa Pref.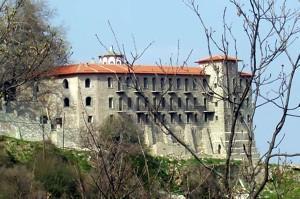 ...The lightheartedness of time is reflected in the morning smile of the lake. Now, the excursions in the region's lower mountains, to a series of breathtaking sites centered on Plastiras Lake or in the Town of Karditsa, are a real enjoyment; from historic Ellinopyrgos to the cool Kanalia and Fanari, where the well-preserved old castle dominates the plain below. Another trip, a short ten kilometers from Karditsa Town, brings us to Aghios Athanassios hill, where we can see the remains of the Byzantine castle, now ruined, built with the stones of the ancient acropolis of Kalithiros, known from Hellenistic times (3rd to 1st centuries B.C.). On our way back, Aghios Georgios Village and its church are worth a visit.
The Karditsa Prefecture has a lot of places of historic interest, such as the historic Monastery of Petra Katafigiou. Its chapel has a very well-preserved interior, while its exterior was restored only recently, along with the cave where the holy icon of the Virgin Mary was found, in a very beautiful forest not far from the Monastery wall. In Rendina, a historical village located at the southernmost part of the prefecture, there is another Monastery of importance, dedicated to the 'Dormition of Our Lady', built at about the same time as the pre-mentioned ones. In the center of Rendina we must pay a visit to Agios Georgios church, one of the most important sightseeing sites in the prefecture, due to its impressive exquisitely decorated ceiling and its many precious icons.
The very city of Karditsa is a modern town whose history is lost in the darkness of prehistory. The tourist infrastructure covers the travelers' needs and consists of both modern hotels and renovated ones with a past of many decades. There are a lot of tavernas, restaurants and ouzo drinking joints that stay open until very late at night, contributing to the atmosphere of fun and relaxation based on the most genuine characteristics of the local culture.
During the summer, the Lake is the main attraction. Its two organized beaches, Pezoulas and Lamberou, offer all kinds of water sports: swilling, canoeing, water-bicycles, fishing... If you belong to those who feel more at home in a pool, there are many lake-side ones. If you are fond of the sea, please consider the "lake alternative", with less heat and the chance to let your eyes caress the green ring enclosing the Lake.