Delphi, The Myth and the History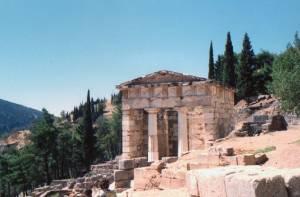 The Myth
The myth recounts that at a certain moment Zeus released two eagles, one from the East and the other from the West. At the point where they met, he threw the Sacred Stone, marking the center of the earth - the navel of the world. The cave, where the divinity Gaia (Mother Earth) used to utter her prophecies, was guarded by her son, the serpent Python, and dates from the second millennium BC (Mycenaean period). It was located on the way from the Gulf of Corinth to Central and Northern Greece, in a region then called Pytho. When the god Apollo was an infant, he killed Python, at the same time abandoning Delphi to purify himself. After the purification took place, he returned to Delphi, was crowned, and took over the Oracle, which from then on belonged to him.
Apart from the mythical implications, this act symbolised the introduction of the worship of Delphinios Apollo at Krissa (a town in Phokis, today Hrisso) by the seamen of Knossos. The god became known as Apollo Pythias, and the area was called Delphi from that time on. At first the Oracle was under the strict domination of Krisa; it was liberated in 590 BC, and it is from this date that the true history and fame of Delphi essentially began.

The History
A number of Sacred Wars broke out for control of the Oracle. The Phokians, Amphissans, and even the Athenians vied to avail themselves of its great wealth, interfering with the independence of the priests and the little world that revolved about them. In 191 BC the Romans became masters of Delphi. This was a period of great waves of pillaging raids, but also attempts to revive the Oracle. However, nothing could halt Delphi's decline, and eventually it ceased to be regarded as the navel of the world.
One of the most incredible aspects of the Oracle's vast reach can be demonstrated in its power over the prevailing international law of that time. Its edict affected all of mankind and prohibited, among other things, the pollution of water sources and the tampering or destruction of aqueducts. In an ever more reaching edict, one to be adopted by modern society a great many generations later, was the prohibition of the execution of prisoners of war, something that the modern Geneva Convention would adopt and enforce.