Agios Konstantinos

Welcome to Agios Konstantinos!

On our way up the Athens - Thessaloniki National Road, past the Arkitsa ferry port to Aedipsos on Evia, we come to the nice coastal town
of Agios Konstantinos (St. Constantine), 165 km (102.5 miles) from Athens and 49 km (30.5 miles) to Lamia, the capital city of the Prefecture of Fthiotida.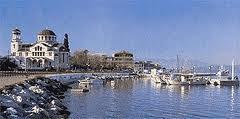 The town is at the foot of Mt. Knemis, green with pine and olive trees. The imposing local church of Agios Konstantinos, after which the whole town was named, is an interesting one to visit, as it is built on top of a pre-existing Byzantine monastery; the whole town was built on top of an ancient town at the same spot, Daphnous.
The Dipotamos river crosses the region.

Agios Konstantinos port connects the mainland with the islands of Skiathos, Skopelos, Alonissos and more. There is also a small boat that connects Agios Konstantinos to Agios Georgios Village on Northern Evia.

Swimming is possible anywhere around the town but, especially, at Asproneri sand and pebble beach. If you happen to be around on August 23rd do not miss the local "panegyri" (feast) at the nearby village church of "Panayia Evlogias".