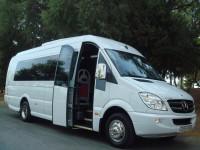 Our excellent transfer service is a feature that is available to all clients who have booked their accommodation, holiday package, or other service through Windmills. Unfortunately, we cannot offer this service independently, since our low rates are offset by high administration costs in providing this valuable service to you.
We organize transfers at every destination that we feature on our website, and for most of them, you'll be given introductory printed material about your particular destination. We'll also handle your departure as well, and be sure that you are at your departure point, whether airport or port, in plenty of time to make your connection.

We specialize in both individual and group transfers, and our rates are excellent. Our service is comfortable and efficient, reliable and economical.

Specific details can be found on each destination main page. Just select "Transfers" from the menu to the right of the page … it's as simple as that.